China Superior Weld Neck Flange Manufacturer
Looking for a reliable, quick-turn supplier of high quality welding neck flange? With professional technology and advanced equipment, Haoyan's unmatched production capacity ensures your weld neck flanges are shipped on-time, every single time. A variety of Welding Neck Flanges & Long Weld Neck Flanges with raised face, flat face, or RTJ facing can be designed and produced according to customer requirements and international quality standards; a lots of materials, specifications and weld neck flange dimensions are available for your option.
Welding Neck Flanges (Flanges with neck), are attached to the tube by butt welding, they are preferred when the stresses on the joint are maximum. The most popular flange type is designed to butt weld directly to pipe, its long conical neck optimizes the distribution of stress, provide a superior and relatively natural form connection.
Best wholesale weld neck flange price in global market. Highly durable, corrosion resistant and precise workmanship ensure long service life of our steel WN flanges.
OEM/ODM orders of weld neck flange accepted, just contact us and give me your design. we will offer you a reasonable price and make samples for you ASAP.
We also have a dedicated inspections department that examines each welding neck flange to ensure the highest quality workmanship for your job.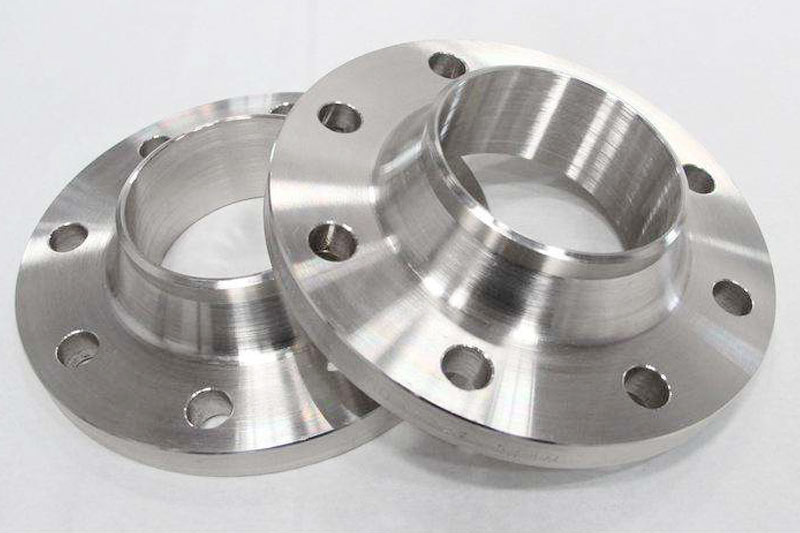 Top Quality Standard or No-Standard Weld Neck Flanges Supply At Competitive Prices
Yanhao are equipped to handle a wide variety of custom steel weld neck flanges in accordance with international quality standards, from ANSI to JIS and DIN. Our highly durable, corrosion resistant and reliable Welding Neck Flanges are win great reputation in engineering, construction, chemical, oil field, power plant and other industries.
What is Welding Neck Flange?
Weld Neck Flange, also referred to Welding Flange with Neck, is the flange with butt weld has a shape intended to transfer the stress to the pipe, to reduce the stress at the base of the flange. It can be recognized by its collar and its smooth transition from the thickness of the flange to the thickness of the pipe wall. This transition makes it particularly resistant to the repeated stresses caused for example by line expansions or other variable forces. We can consider that this assembly is as resistant as an end-to-end tube assembly. It is preferred for severe services under conditions of high pressure, high or low temperature, and which can fluctuate between wide limits.
Specification of WN Flanges

Size: DN15-DN2000 (1/2-78 inch)
Surface Treatment: Anti-rust Oil, Transparent/Yellow/Black Anti-rust Paint,Zinc,Hot dipped Galvanized.

Weld Neck Flange Pressure Grade

PN2.5, PN6, PN10, PN16, PN25, PN40, PN63, PN100, PN160, PN250, PN320, PN400
Class 150, Class 300, Class 600, Class 900, Class 1500, Class 2500
Weld Neck Flange Materials

Carbon Steel Flange: ASTM A105, 20#, Q235, 16Mn, ASTM A350 LF1, LF2 CL1/CL2, LF3 CL1/CL2, ASTM A694 F42, F46, F48, F50, F52, F56, F60, F65 ,F70;
Stainless Steel Flange: ASTM A182 F304, 304L, F316, 316L, 1Cr18Ni9Ti, 0Cr18Ni9Ti, 321, 18-8;
Alloy Steel Flange: ASTM A182 F1, F5a, F9, F11, F12, F22, F91, A182F12, A182F11, 16MnR, Cr5Mo, 12Cr1MoV, 15CrMo, 12Cr2Mo1, A335P22, St45.8/Ⅲ;

Sealing Surface Types For Weld Neck Flanges

RF (Raised Face);
FF (Flat Face);
M&F (Male-and-Female Face);
RTJ (Ring-Type Joint)
F (Female Face);
M (Male Face);
T&G (Tongue and Groove Face);
Among them, the uneven surface (MFM) is a matching use;
Weld Neck Flange Standards

ANSI, ASME, JIS, DIN, BS4504, SABS1123, EN1092-1, UNI, AS2129, GOST-12820

WN Flange Application

Chemical, Engineering, Construction, Oil Field, Offshore, Water System, Shipbuilding, Natural Gas, Electric Power, Manufacturing Industry, Pipe Projects etc.
Yanhao Weld Neck Flange Product Range

ANSI B16.5 Class 150 Welding Neck Flanges
ANSI B16.5 Class 300 Welding Neck Flanges
ANSI B16.5 Class 400 Welding Neck Flanges
ANSI B16.5 Class 600 Welding Neck Flanges
ANSI B16.5 Class 900 Welding Neck Flanges
ANSI B16.5 Class 1500 Welding Neck Flanges
ANSI B16.5 Class 2500 Welding Neck Flanges
ASME B16.47 Class 150 Series A Welding Neck Flanges
ASME B16.47 Class 300 Series A Welding Neck Flanges
ASME B16.47 Class 400 Series A Welding Neck Flanges
ASME B16.47 Class 600 Series A Welding Neck Flanges
ASME B16.47 Class 900 Series A Welding Neck Flanges
ASME B16.47 Class 75 Series B Welding Neck Flanges
ASME B16.47 Class 150 Series B Welding Neck Flanges
ASME B16.47 Class 300 Series B Welding Neck Flanges
ASME B16.47 Class 400 Series B Welding Neck Flanges
ASME B16.47 Class 600 Series B Welding Neck Flanges
ASME B16.47 Class 900 Series B Welding Neck Flanges